Digi Multi Coater is Coater which is two in one system for B2 size UV/Water-based varnish coating after printing, for Fujifilm Jet Press 750S/720S. Main Feature
Digi Multi Coater - B2 size UV/Water-based Varnish Coater
What Digi Multi Coater is?
Digi Multi Coater is Coater which is two in one system for B2 size UV/ Water-based varnish coating after printing.

Digi Multi Coater is specially designed for B2 size Fujifilm Jet Press 750S/720S / Digital Print Press and compatible with most offset, digital press, ink jet and photo based prints. The design of Digi Multi Coater allows for simple and automatic operation from start to finish.

The coating system makes it possible to improve the efficiency of coating process.Digi Multi Coater working with Digital Print Press is the most effective system for UV/Water-based liquid coating after printing.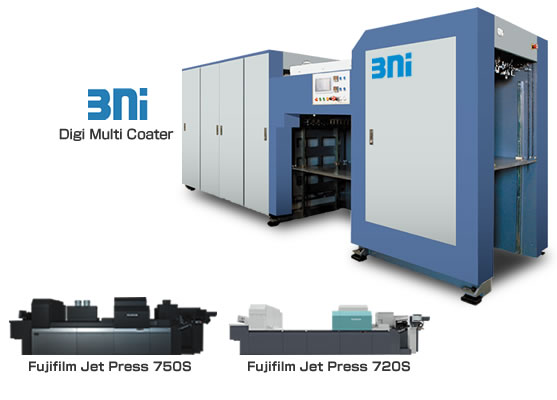 Duplex Coating for B2 Size Media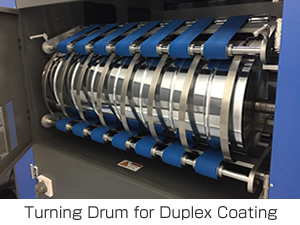 Digi Mult Coater has two independent coating systems and can coat B2 size media in duplex by one path.

*For Fujifilm JetPress prints, only lower Coating station is to work and Upper heater is used as pre-heating

Good Maintenanceability, Roller Module in Cassette
Digi Multi Coater is designed for Operators and/or Maintenance Persons and has good maintenanceability, Roller Module in Cassette for example.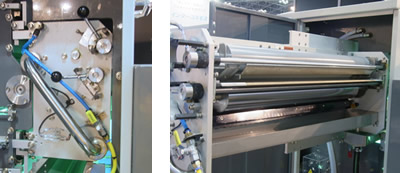 Paper Feed Count on Operation Panel
Digi Multi Coater has Paper Feed Counting Function and can be monitored from Operation Panel.