Compact UV Coater upto A3 in one system for Primer and UV, Water-Based Liquid coating.
Compact Digi UV Coater Bni-13RB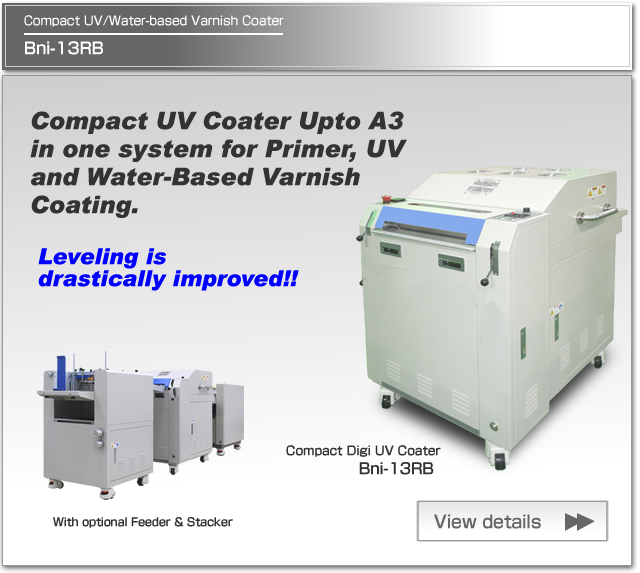 The compact Digi UV Coater Bni-13RB is ideal for all types of small format digital press printers. From the innovative and visual touch screen, it is easy to monitor and operate both the feeder and coater funtions.

The top feeder is capable of accepting up to 200mm (8 inch) high stack of sheets and is ideal for running small to medium volume jobs.

[Specifications]
| | | |
| --- | --- | --- |
| 1. | Coating Technology: | 100% Curable UV Coating, Primer Coating with heater, Water-Based Liquid Coating with heater |
| 2. | Coating Thickness: | 6-14 Microns |
| 3. | Speed: | Max.35 meter per minute |
| 4. | Paper Weight: | Max. 400 g/m2 |
| 5. | Coating: | UV Varnish (Glossy/Matte), Primer |
| 6. | Coating Pattern: | Smooth or Texture (Roller changeable) |
| 7. | Power Supply: | 200--415V, 50/60Hz Three Phase |
| 8. | Option: | Auto Sheet Feeder(Max. Pile Height 650mm), Auto Stacker |