Bni720, Digital Auto Card Cutting and Creasing System on one process, for Digital Printer, SRA3 sized paper
Bni720 Digital Auto Card Cutting/Creasing System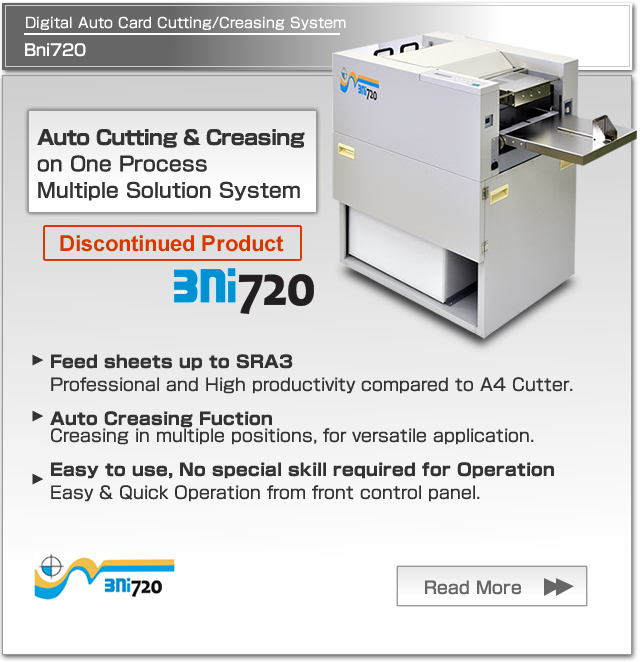 The Auto Cutting & Creasing System Bni720 has been manufactured to meet the needs of the growing number of digital printers who have asked for a highly accurate, low cost, easy to use multifunctional finishing device.
With run lengths becoming shorter and jobs being personalised or printed with no goversh it is essential to have an accurate, easy to use reliable finishing system; and that is exactly what the Bni720 is.
It can feed sheets up to SRA3 in size and can trim, cut and crease in multiple positions. The accuracy of the Bni720 is now the best available in the market and significantly better than that of many more expensive units.
+/- 0.1mm accuracy versus +/- 0.7mm or +/- 0.5mm for the largest volume selling machines that existed previously makes the Bni720 between 5 and 7 times more accurate and provides a much better result for your customer and investment for your business.
When producing business cards an average run of 250 cards can be finished in less than 2 minutes. A small job such as this that would previously have needed 18 cuts on a guillotine can now be offered as a gwhile you waith service.
The versatile Bni720 now has the ability to take SRA3 sheets, trim them to A3 and crease them to produce finished A4 4 page brochures. Equally easily it can finish the job to A4 which can then be creased to make 4 page A5 leaflets or multiple creases for a wide variety of applications.
The options are endless and with the million cut guarantee the Bni720 will be serving your business for many years to come.
Product Specifications
1.

Configuration
Freestanding cabinet with castors

2.

Cutting Method
Long blade (side-to-side direction) and Rotary blade unit (paper feed direction)

3.

Creasing Method
Creasing blade unit (side-to-side direction)

4.

Finished Size
Business card, Postcard, A3, A4 or Tabloid, Letter(US Edition)
*Subject to optional Rotary Blade

5.

Paper Size
A4, SRA4, B4, A3, SRA3(320x450mm)
12hx18, 9hx12h (US Edition)

6.

Thickness/Weight of paper
0.12(105gsm/6pt) - 0.40 mm(325gsm/16pt)

7.

Number of Sheets or Pages
One sheet of SRA3 when cut yields one of the following;
20 x Business card, 8 x Postcard, 1 x A3, or 2 x A4 size

8.

Paper Feed
500 sheets of paper in a single stack (for 0.12mm thick)
Air suction paper feed system

9.

Dimensions
1,522(W)x615(D)x945(H)mm
10.
Weight
Approx.110kg

11.

Power Supply / Consumption
AC100+-10%, 50/60Hz, 150W(Operation)