Digi UV Coater is Multi Coater which is three in one system for Primer, UV Coater, and Water-based Liquid coater.
Digi UV Coater KDC Series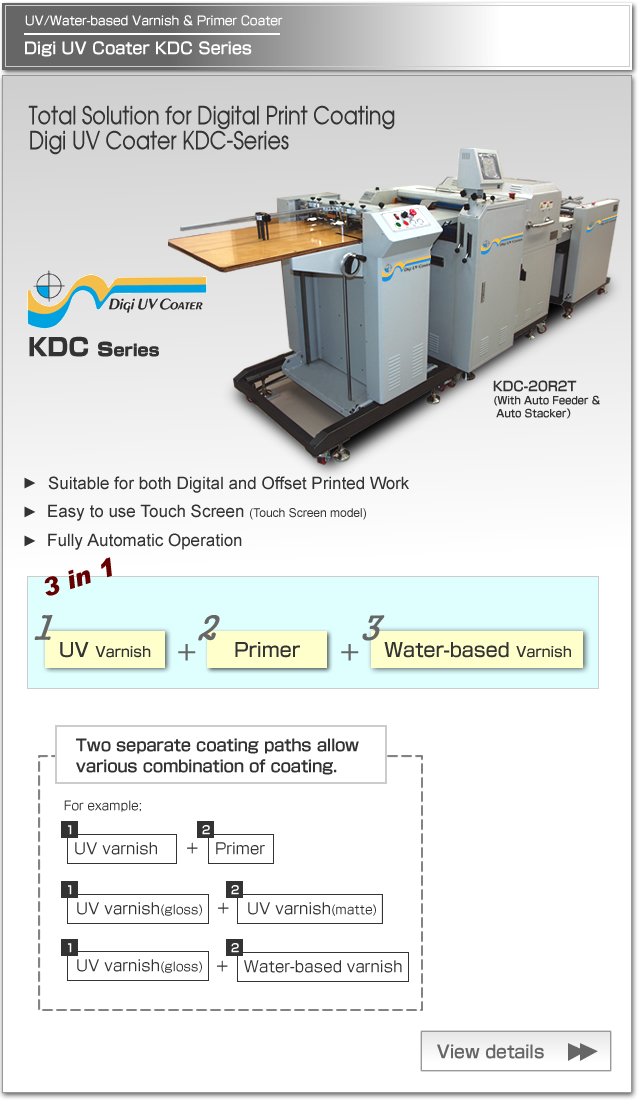 Digi UV Coater is compatible with the most offset, digital press, inkjet and photo based printers. The design of Digi UV Coater allows for simple operation from start to finish.
Warm-up, preparation, finish section, coating and cleaning are fully automated and controlled through the user-friendly touch screen.
Two separate coating paths allow operators to use not only both for UV coater with different glossy and matte finishes or optional texture rollers but lower roller for primer or water-based liquid coater with IR heater and upper roller for UV coater.
Optional 5 patterns of texture rollers make coating more attractive.
Specifications
| | | |
| --- | --- | --- |
| 1. | Coating Technology: | 100% Curable UV Coating, Primer Coating with heater, Water-Based Liquid Coating with heater |
| 2. | Coating Thickness: | 6-14 Microns |
| 3. | Speed: | 30 - 35 meter per minute |
| 4. | Paper Weight: | Max. 400 g/m2 |
| 5. | Coating: | UV Varnish (Glossy/Matte), Primer |
| 6. | Coating Pattern: | Smooth or Texture (Roller changeable) |
| 7. | Power Supply: | 200-240V, 50/60Hz Three Phase or 380-415V, 50/60Hz Three Phase |
| 8. | Option: | Auto Sheet Feeder(Max. Pile Height 650mm), Auto Stacker |